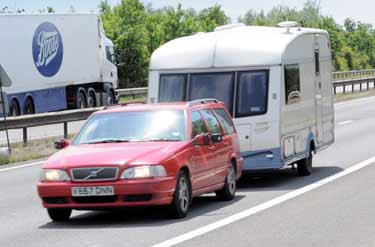 « View all LGV, HGV & HIAB Operator Training Courses
BE – Car plus Trailer – Combinations of vehicles consisting of a vehicle in category B and a trailer, Gross weight of the trailer must not exceed 3500kg.
When do you need a B&E driving licence?
If you passed your car driving test on or after 1 January 1997 and you now want to tow a caravan or trailer, you may need to take a practical driving test.
If you passed a car driving test before 1 January 1997, you keep your existing entitlement to tow trailers. This means you're generally entitled to drive a vehicle and trailer combination up to 8,250kgs. You can also drive a minibus with a trailer over 750kgs MAM.
However, if you obtained your car licence on or after 1 January 1997…
If you passed your car test on or after 1 January 1997 you're limited to vehicles up to 3,500kgs maximum authorised mass towing a trailer up to 750kgs, or a vehicle and trailer combination up to 3,500kgs MAM. If you drive and exceed these limits then you will not be covered by your insurance and you may receive penalty points and / or be fined!
You will need to pass an additional driving test in B+E if you wish to tow a caravan or trailer combination which exceeds these weight limits.
Why Choose PASS Training?
PASS Training are a specialist training provider offering tailor made B+E courses throughout the north-east area. Our courses are specifically designed to meet your needs and requirements. We will conduct a driving assessment and then advise you what training we believe you will require. We will equip you with the skills and knowledge you require to obtain your additional licence entitlement. PASS Training are the only company in the area with its own off-road reversing practice area…. other companies use car-parks where the general public can come and watch!
We can arrange courses ranging from 1/2 a day for an experienced driver, upto a 4 day course for someone who has never towed a trailer before.
Training is conducted in our vehicle with a trailer also provided.
Our training will include:

Driver Maintenance and Safety Checks
Reversing exercise
Correct procedures for coupling and uncoupling
Moving off procedures
Hill starts
Controlled stops
Independent Driving
"Show me, Tell me" Questions
Practice Test Routes – similar to those used on test day
PASS Training can also provide specialist tailor made courses that cover the following:
General Manoeuvres & Reversing: If you struggle to reverse then we will assist you to master this art! We will build your confidence so that reversing becomes second nature.  We will provide you with various tips to help you.
Safe Loading: We will show you how to correctly load your trailer or caravan, ensuring that weight is correctly distributed. We will also ensure that you know how to safely couple and uncouple your trailer or caravan.
---
Related Courses