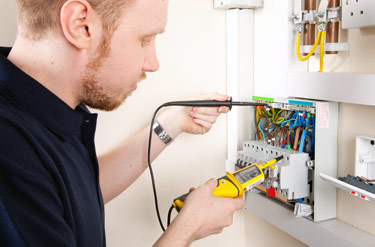 « View all Electrical Training Courses
| | |
| --- | --- |
| | City and Guilds 2382-15 is the industry standard course which is based on the 17th Edition Wiring Regulations. |

Ask us a Question »
An essential course for any aspiring electrician, electrical installer, supervisor or anyone else who will be involved at any point with electrical installations in the UK.
City and Guilds 2382-15 is the industry standard course which is based on the 17th Edition Wiring Regulations.  This is the most up-to-date version of the course, incorporating the changes which were made under Amendment 3 of the Wiring Regs.
Duration
3 Days.
What's Included?
We include the following as part of your course package:
City & Guilds Examination Fees
Lunch & Refreshments on Each Date of the Course
Course Materials (excluding the IET Wiring Regulations)
£20 off a Multifunction Tester from PAT-Services.co.uk
Note: we highly recommend purchasing and bringing with you a copy of the IET Wiring Regulations. We sell this book separately through our test equipment website, www.tester.co.uk.
17th Edition Training Course – Description
Important note: the IET Wiring Regulations is a theory-based course without any practical elements. This is not an electrical installation course, but is an essential for anyone who is involved with electrical installations, whether you are an electrical trainee, supervisor or experience electrician looking to update your knowledge.
Over the space of three days, you'll work in a classroom environment through the IET Wiring Regulations, focusing on the different sections, the requirements you must always take into account and any other important information you need to know and thoroughly understand for the completion of electrical installations.
This a full City & Guilds accredited training course.
Course Content
There are seven key modules which you will learn during the 17th edition course:

Section 1 – Scope, Object and Fundamentals
Section 2 – Definitions
Section 3 – Assessment of general characteristics
Section 4 – Protection for Safety
Section 5 – Selection and Erection of equipment
Section 6 – Inspection & Testing
Section 7 – Special Installations or locations
In addition, this course also outlines the changes made under Amendment 3 of the Wiring Regulations (2015), which includes:
Section 557 – Auxiliary Circuits
Section 559 – Luminaires and Lighting Installationgs
Section 714 – Outdoor Lighting Installations
Section 715 – Extra-Low Voltage Lighting
Section 717 – Mobile and Transportable Units
Chapter 41 – Protection Against Electric Shock
Chapter 42 – Protection Against Thermal Effects
Chapter 52 – Selection and Erection of Wiring Cables
The Amendment 3 section will also reference Part 2 Defintions – 'Cmin' Factor and Condition Reports
Assessment
After completion of the course content, you will be expected to take a multiple-choice, open-book examination which, when passed, will give you the full City and Guilds 2832-15 qualification.
As this is an open-book examination, you are allowed to use your own copy of the IET Wiring Regulations book during the exam. We are unable to supply copies of the book, so make sure you have your own copy before attending the course.
Prerequisites
There are no prior requirements to attend this course.
The course is open to all regardless of your experience with electrical work – a basic understanding of electricity will be beneficial, but isn't essential as our tutors will guide you through all aspects of the course.
Certificate(s) Gained
Upon completion of this course delegates will receive a City & Guilds 2832-15 Level 3 Award in Requirements for Electrical Installations BS7671: 2008 (2015).
17th Edition Course Locations
We run the 17th Edition training course regularly throughout the year at various venues across the UK.
We are currently running this course in the following locations:
More Information
If you have any questions about course availability, the suitability of the course or anything, please call 01642 987 978 or contact us and our training centre staff will be happy to help you choose the right courses for your business needs.
---
Related Courses