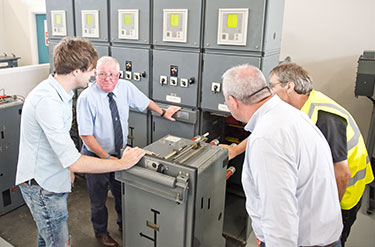 « View all High Voltage Training Courses
| | |
| --- | --- |
| | HVSO1 is designed for those who wish to enter high voltage substations and switchrooms to perform limited switching operations at Authorised Person level. |

Ask us a Question »
Course Code
HVSO1
Duration
This is a 3 day training course.
Course Location
PASS Training Centre
1 Alberto Street
Stockton-On-Tees
TS18 2BQ
Course Entry Requirements
A basic understanding of electricity and high voltage equipment is recommended for this course, but not essential. If you're unsure if this course is right for you, just call us and we'll help you choose which courses you need.
Anyone attending training should also have a good level of both spoken and written English.
Course Description
Take this course to train yourself as an authorised person who will be responsible for entering high voltage substations and switchrooms to perform limited switching operations.
With a strong focus on the safety requirements, theory and practical skills needed for safely entering HV areas and performing switching, this course incorporates a mix of practical and theoretical exercises designed to expand your high voltage knowledge.
After taking this course you could move on to training as a Senior Authorised Person on other courses and gain further responsibilities in high voltage environments.
Course Content
The course covers the following modules:

Safety Requirements
Electrical Hazards and Precautions
Operational and Safety Features of Switchgear
Electricity at Work Regulations 1989
Limited Operational Procedures
High Voltage Safety Rules
The Role of Protection Relays
Practical Switching Exercise
Case Studies
Course Review
We can also provide bespoke modules designed in combination with your unique business safety protocols. Please contact us directly for more information on tailoring your training course.
Assessments
Written examination and practical examination
Reading Requirements
There are no peripheral reading requirements for this course.
Certificate(s) Gained
PASS Certificate of Competency
Those who do not complete the course or do not pass the tests will receive a certificate of attendance instead.
More Information
If you'd like any further information on any of our courses, including confined space awareness, please give us a call 01642 987 978 or contact our training team.
---
Related Courses