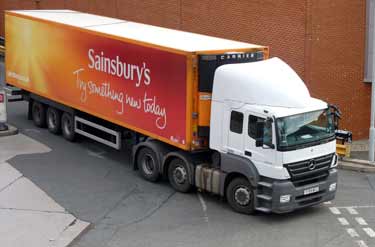 « View all LGV, HGV & HIAB Operator Training Courses
Class 1 Artic – Combination of truck and trailer over 12,000kg gross weight of the entire combination, up to a maximum of 44,000kg.
When do you need a Category C&E Driving Licence?
If you want to drive a truck and trailer combination over 7.5tonnes, you will need to obtain a Category C&E / Class 1 driving licence. You must hold a Category C / Class 2 driving licence and be 18 years of age or older. The Category C&E licence will allow you to drive an articulated or drawbar vehicle.
Why Choose PASS Ltd Training?
Our aim is a simple one, to provide our customers with the best possible training experience. This involves experienced instructors, with many years of driving experience, using modern reliable vehicles. All of our training vehicles have automatic gearboxes, however when you pass your test you will still be allowed to drive manual Category C vehicles.
PASS Ltd Training are the only training provider in the area with its own off-road reversing area where other companies use areas of land open to public access.
Our training takes place over 5 days, with your driving test being taken on day 5. We can arrange shorter courses if required. We are also happy to provide training to fit around your existing commitments, if this means working evenings or weekends then that is what happens…..our customers always come first!
Our training will include:
Driver Maintenance and Safety Checks
Reversing exercise
Correct procedures for coupling and uncoupling
Moving off procedures
Hill starts
Controlled stops
Independent Driving
"Show me, Tell me" Questions
Practice Test Routes – similar to those used on test day
---
Related Courses