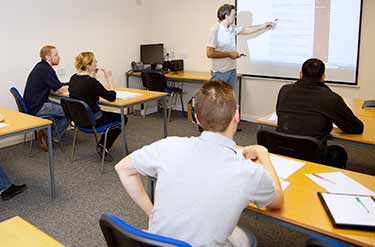 « View all LGV, HGV & HIAB Operator Training Courses
Legal qualification for those who drive a vehicle over 3.5 Tonnes for "hire or reward".
What is CPC?
The Drivers Certificate of Professional Competence was implemented on the 10th September 2009 for all LGV drivers. The CPC is currently monitored by JAUPT (Joint Approvals Unit for Periodic Training).
Who needs CPC Training?
If you drive a vehicle over 3.5 Tonnes for "hire or reward" then you need the CPC qualification to drive legally. If you drive without your CPC you may be committing a criminal offence!
All drivers of Category C1 vehicles and above (Category C1&E, Category C and Category C&E) needed to have completed 35 hours of CPC training by September 2014. They must then complete 35 hours of periodic CPC training every 5 years. You may choose to complete a 5 separate 7 hour modules, spread over the years or you choose to take all 35 hours training during one week. Our courses cover the following areas:
Vehicle checks & Defects
Company & Public Image
Drivers Hours
Economical Driving
Emergency Aid
Health & Safety
Licence, Weights & Dimension
Security
Tachograph
Tiredness, Diet & Lifestyle
Following the completion of each course, PASS Ltd ensure that your training records are updated with JAUPT. The cost of this is included in our price.
---
Related Courses