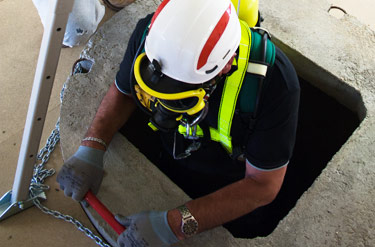 « View all Confined Space Training Courses
| | |
| --- | --- |
| | With enhanced dangers and the realistic possibility of a hazard developing, learning about medium-risk confined spaces is essential for those working in and around these environments. |
When booking please state if you require the City & Guilds 6150-02 (Water), or the City & Guilds 6150-52 (Non-Water). Both courses cover the same content, but learners sit a different exam at the end.
The 3 year refresher or water version of this course is also available on request.
Duration
2 day course
Course Description
Valid for 3 years after completion, City and Guilds 6150-52 or 6150-02 gives delegates the training and skills needed to interact with and work safely within confined spaces designated as 'medium-risk'.
A medium risk confined space is defined as a space where there may be an access issue to the space. Examples includes a tank, manhole, utility duct, subway tunnel, wet well or other hard-to-access environments. In medium-risk environments there may be an expectation of a hazard arising during the work.
This course is suitable for anyone who needs to work inside a confined space and ensures that delegates have the knowledge to remain safe at all times when doing so.
Course Content
This course focuses on the development of essential training in using access equipment, confined space rescue harnesses, atmospheric monitoring equipment and the use of emergency escape equipment. Delegates will also become competent in the use of emergency escape breathing apparatus: this does not mean that the learner is qualified to use self-contained breathing apparatus.
Candidates will take part in the following modules

Legislation relating to confined spaces
Confined space hazard principles
Risk assessment in confined spaces
A permit to work system principles
The safe use of tripods and winches
The duties of the Topman or Safety Attendant
How to prepare, enter, work and exit a medium-risk confined space
Confined space communication methods, types and limitations
Gas monitoring principles and procedures
Ventilation methods, types and limitations
Preparation and use of emergency escape breathing apparatus
Don an emergency escape set and exit a confined space safely
How to deal with emergencies in confined spaces
Following work safety procedures
Confined space hygiene
The course deals with a team entry of generally five people with emergency escape breathing apparatus and involves moving away from the point of entry without an attached rescue line to complete the task.
A simulated emergency will arise and candidates must exit the space safely. The training will take place in a descent of at least 3.1metres with fall arrest, tripod and winch equipment into darkness.
All modules are within the principles set out by the National Occupational Standards.
Assessment
This course is assessed through both a practical and written test.
The practical test is carried out within a confined space and will require a degree of fitness in order to safely carry out the training. If you have any concerns on your suitability for confined space training please contact us directly for more information.
Prerequisites
Delegates should be familiar with the regulation and legalisation relating to confined spaces before studying this course.
Certificate(s) Gained
Upon completion of this course delegates will receive  a City and Guilds 6150-02/52 Award in Working in Medium-Risk Confined Spaces (Entry Permitted Use of Emergency Escape Sets).
More Information
For more information on any of our training courses please call 01642 987 978 and speak to our specialist training team or contact us through the website.
---
Related Courses