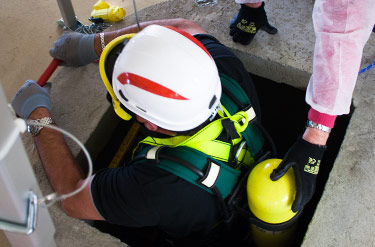 « View all Confined Space Training Courses
| | |
| --- | --- |
| | Candidates will learn how to classify a confined space, inform staff of responsibilities and much more on this non-entry course. Ideal for managers and supervisors from any industry. |
When booking please state if you require the City & Guilds 6150-06 (Water), or the City & Guilds 6150-56 (Non-Water). Both courses cover the same content, but learners sit a different exam at the end.
Duration
3 Day
Course Description
Please note that this course will not require the candidate to enter a confined space.
Centered around medium-risk confined spaces, this City and Guilds accredited training course is made to give those in a top man role the knowledge to safely manage a team of confined space professionals.
The course focuses on the development of the knowledge and skills of the top man role with a focus on reviewing and understanding risk assessments within confined spaces, the difference between the classification of confined spaces, informing staff of their responsibilities, establishing a safe zone, ensuring correct communication facilities are in place, performing gas monitoring and reacting to emergency situations.
This course is suitable for absolutely anyone involved in a top man role within an organisation regardless of industry type.
Course Content
This course covers the following modules related to medium-risk confined spaces:

Receiving a task for confined space work
Organising a safety zone around the space
Confirming risk assessment and safe working systems
Controlling the entry and exits of confined spaces
Dealing with emergencies
Confined space classification
Assemble, inform and deploy staff to tasks
Establishing onsite and offsite communication
Opening and confirming the confined space risk level
Performing gas monitoring checks
Recovering workers from the space safely and closing it safely
Hygiene procedures
Emergency situations
All modules are within the principles set out by the National Occupational Standards.
Assessment
This course is assessed through both a practical and written test.
Prerequisites
Candidates for this course must have completed at least one of the following courses:

City & Guilds 6150-02/52 Medium Risk Confined Space
Certificate(s) Gained
Upon completion of this course delegates will receive a Level 2 Award in Working in Medium Risk Confined Spaces (Top Man) (Non-Entrant) (6150-06/56).
More Information
For more information on any of our training courses please call 01642 987 978 and speak to our specialist training team or contact us through the website.
---
Related Courses