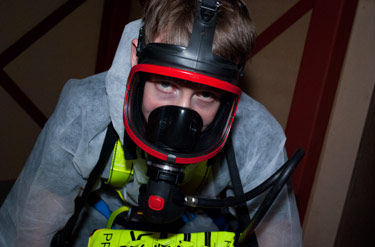 « View all Confined Space Training Courses
Learn the skills and work with the equipment necessary to enhance the safety of you and others around confined space environments.
Duration
This course runs for 2 days.
Course Description
Ideal for any person who needs to develop the essential underpinning skills and knowledge required to plan, enter, work and exit confined spaces including via a vertical shaft and where escape and working apparatus are part of the planned means of self-rescue.
Candidates should bring their own safety footwear, waterproof clothing, hard hat and working gloves for use in practical exercises. Special breathing apparatus will be provided during this part of the course.
Due to the nature of the course's physical elements candidates must be cleared by a medical professional ahead of the course as being physically fit enough to complete it.
Course Content
The course covers the following modules:

Outcomes of the Confined Space Regulations 1997
Personal Protection and Hygiene Requirements
Specified Risks and their Control
Risk Assessing Residual Hazards
Types of gaseous atmosphere, portable gas monitoring equipment and its uses
Operation of safe systems of work
Use of permit-to-work control measures
The use of harnesses, tripods/man-riding winches, fall arrests and safety lines
Use of escape set breathing apparatus
Use of short duration working breathing apparatus
Safe entry, working and exiting procedures in and around confined spaces
Self-rescue procedures
Knowledge and skill exercises for planning, ent
We can also provide bespoke modules designed in combination with your unique business safety protocols. Please contact us directly for more information on tailoring your training course.
Certificate(s) Gained
Certificate of Attendance in Confined Space Entry/Escape & Working Breathing Apparatus
More Information
If you'd like any further information on any of our courses, including confined space awareness, please give us a call 01642 987 978 or contact our training team.
---
Related Courses