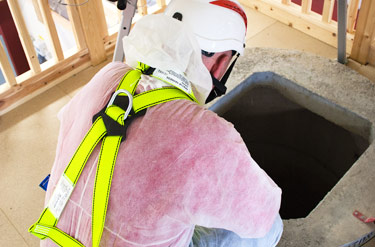 « View all Confined Space Training Courses
| | |
| --- | --- |
| | In a top man role, candidates will learn how to safely manage and ensure the safety of a confined space team. This course is non-entry. |
When booking please state if you require the City & Guilds 6150-04 (Water), or the City & Guilds 6150-54 (Non-Water). Both courses cover the same content, but learners sit a different exam at the end.
Duration
3 day course
Course Description
Please note that this course does not require entry into the confined space. Upon completion this course does NOT make the candidate competent to enter/work in a confined space.
A level 3 training course accredited from City and Guilds, this comprehensive course covers all aspects of managing a team of professionals who will be working with high risk confined spaces. The top man role within a high risk confined environment is seen as more dangerous than that of a traditional top man due to the level of risk and the possibility of further risks arising within the confined space.
By taking this course candidates will learn the responsibilities of the top man, best practice in the workplace and will receive the knowledge necessary to implement a safe system of work. Upon completion the candidate will be able to safely advise, manage and direct fellow colleagues in a responsible manner to ensure accidents don't occur in dangerous high risk confined spaces.
Course Content
Candidates will take part in the following modules:

Being the safety attendant for teams within the confined space
Overseeing entry and exit of the confined space to ensure safety
Monitoring work teams and ensuring safe procedures are followed
Preparing for any emergency situations
Dealing with emergency situations
Behaving appropriately when carrying out top man work in high risk confined spaces
Using knowledge gained to carry out the task
Working to regulation standards
When finished the candidate will have the skills, responsibility, competence and awareness to work confidently with his risk confined spaces.
Assessment
This course is assessed through both a practical and written test. No entry is required into the confined space at any point.
Prerequisites
We recommend that candidates entering this course should consider studying the following courses before entering the top man course:

6150-05/55 Emergency Rescue and Recovery of Casualties from a Confined Space
6150-61 Award in Managing Work in Confined Spaces
Certificate(s) Gained
Upon completion of this course delegates will receive a City and Guilds Level 3 Award in Top Person for High Risk Confined Spaces.
More Information
If you have any questions about course availability, the suitability of the course or anything, please call 01642 987 978 or contact us and our training centre staff will be happy to help you choose the right courses for your business needs.
---
Related Courses