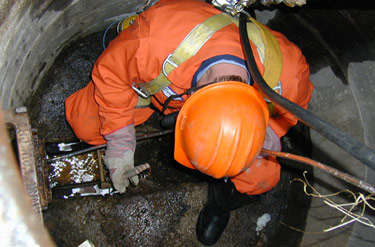 « View all Confined Space Training Courses
Confined space awareness is essential for all staff, even if they're not directly involved with entering a confined space. This course gives candidates the necessary skills to enter low risk confined spaces without breathing apparatus.
Duration
This course runs for 1 day.
Course Description
This course is suitable for those who will be entering low risk confined spaces but don't require the use of breathing apparatus in order to do so.
Confined space awareness is essential for all personnel involved with any aspect of work that will be carried out within an enclosed environment. This course is designed to deliver knowledge, understanding and respect for the dangers of confined spaces, the equipment required and other aspects of awareness within hazardous confined environments.
Instructed by an expert tutor in confined space awareness, this course ensures that anyone who comes into contact with a confined space (either directly or indirectly) is fully able to deal with the situation safely and competently.
This course is suitable for all industries, including water, utilities, construction, industrial and chemical applications.
Course Content
The course covers:

Outcomes of the Confined Spaces Regulations 1997
The controls required for safe work in low risk confined spaces
Problem atmospheres, their occurrence, detection and monitoring
Physiological effects of problem atmospheres
Safe entry procedures and safe systems of work
Emergency procedures and responding to alarms
Knowledge and skill exercises for entering, working and exiting low risk confined spaces
We can also provide bespoke modules designed in combination with your unique business safety protocols. Please contact us directly for more information on tailoring your training course.
This training covers all the requirements of the Confined Spaces Regulations 1997 to give delegates the ability to understand the importance/dangers of confined spaces and associated factors.
Pre-Requisites
No prior knowledge of confined space is required for this course as this is an introductory level course designed to encourage awareness of confined space dangers and how to enter them safely.
What Delegates Can Expect To Learn
What a confined space is and exactly how they can be identified
Awareness of the importance of confined space legislation and how to remain in compliance with rules and regulations
The different classifications given to confined spaces depending on their level of hazard
The consequences of failure to safely provide a confined space safety solution
Understanding the responsibility of individual team members when working with confined spaces
Reacting to accidents and emergencies
An understanding of equipment used within confined spaces and its importance
All delegates will leave with a greater understanding of confined spaces, their dangers and the importance of safety in the workplace.
Certificate(s) Gained
Certificate of Attendance in Confined Space Awareness
More Information
If you'd like any further information on any of our courses, including confined space awareness, please give us a call 01642 987 978 or contact our training team.
You can also download a factsheet for this course above for further information.
---
Related Courses